LG Octane Secret Menu
There are some pretty cool hidden menu options available on Verizon Wireless LG model cellphone? Using these menu options one can unlock the secret GPS system and MP3 sections on any LG phone.
Warning: this may severely damage your phone if you change certain settings!
Open your phone so that the main screen is displayed.
press ##program530,  ##7764726530 then send and a screen should pop up with the words "SERVICE CODE" at the top followed by six question marks
Enter all zeroes  and you should be taken to a menu that reads "Services" with the following under
##LGSERVICEMENU hit send
the password is all zero's
* Changing values that you don't have knowledge about in the service menu may damage your phone.
* The functionality of the Hidden GPS system varies from phone.
Using your LG Octane as a Modem on Linux
Click on the System Menu under preferences click on Network Connections
Click on the Mobile Broadband tab
Click the "Add" button
You should see LG CDMA USB Modem
if you don't see it make sure you select modem mode on your phone
Otherwise click Foward
Select your country and click foward
The next screen ask you to pick your provider select Verizon and hit foward. Finally hit apply
Now under Mobile Broadband you should see your new connection. select it and click the Edit button.
Under Mobile Broadband make sure #777 is set as number
username and password blank
under PPP Settings uncheck Use point-to-point encrytion (MPPE)
follow these settings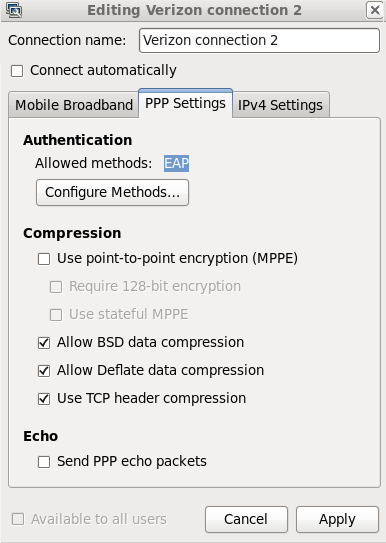 Finally Click on the "Configure Methods" button
and follow these settings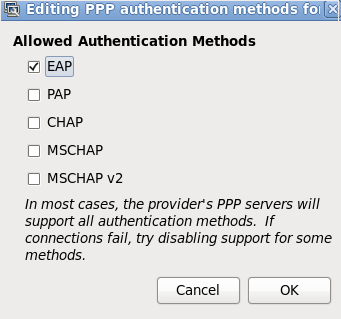 Hit Ok and Finally Apply.
Now left click on the Network Manager applet and connect to your new connection.
Have fun