http://www.mozilla.com/en-US/firefox/new/
Firefox 6 is officially out, however the final build for all the platforms are now available for download from the official FTP channels. Much like the previous release, the changelog for Firefox 6 is quite flimsy, and the new build doesn't feature any major new user facing feature. This is of course the side-effect of following a rapid release cycle. While it makes it easier for Mozilla to stick to the schedule, it also makes version numbers insignificant and immaterial. GHacks reported yesterday that Mozilla is planning on hiding the version number from normal users by removing it from the 'About' box. Of course, that would be an incredibly lame and stupid way to tackle the issue. The sensible thing for Mozilla would be to label these releases as minor version updates, and have one or two scheduled major updates per year that will actually deliver new features. Anyways, there is no point in blaming Mozilla alone. Google is the one who started this madness with their Chrome release cycle.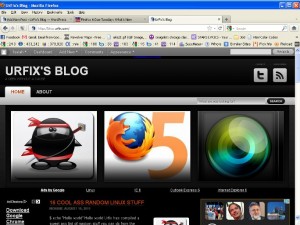 Coming back to Firefox 6, the biggest piece of new feature is that the address bar now highlights the domain of the website you are currently browsing. The site identity blocker has also received a minor facelift to make it sleeker than before. There are also a few behind the scenes improvements such as the support for WebSockets, improved Scratchpad, a new Web Developer menu item, an improved Web Console, and reduced browser startup time when using Panaroma.
There are as many as 1,300 changes in Firefox 6. However, almost all of them are bug fixes. When it comes to delivering new features, Firefox 6 disappoints, once again. If you have used Firefox 5, or even Firefox 4, you already know what to expect. If you liked either of those two releases, you will like Firefox 6. If you didn't, then Firefox 6 will not change your opinion.
source http://techie-buzz.com/browsers/firefox-6-review.html